Fantasy
Fantasy is the flight of our imaginations!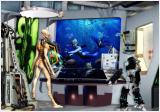 Fantasy - a genre that has absolutely no restrictions - it's more than a genre - the whole world.

This is a fantastic landscape filled with fanciful or supernatural elements, a fabulous ancient nature. Fantasy world exists in the form of some assumptions, whether it is a parallel world, or another planet, and its physical laws are different from the realities of our world. In such a world can be a real existence of the gods, magic, fantastic creatures, ghosts and any other fantastic beings. Fantasy paintings typically unusual and very beautiful. They are characterized by the careful study of household and landscape details, so the original motif becomes a waking dream.

Fantasy genre in contemporary art is very diverse and always fantastic captures attention.

Fantasy pictures are any collection - is one of the top fine arts, is a picture of prestige and wealth!